Integrate high-end details and a cohesive design to stand out from the competition
Boca Raton, Florida, is a colorful and sophisticated community located an hour north of Miami in Palm Beach County. This coastal city has a warm and sunny climate year-round, perfect for an active and healthy lifestyle. Boca Raton provides residents with an exciting and sustainable living environment with its many parks, beaches, and recreational activities. Whether you enjoy golfing, water sports, shopping, or dining, Boca Raton has everything you need.
Boca Raton is known for its luxurious residential country clubs and upscale neighborhoods. The city has been recognized as having some of the most premier communities in the state, providing an opulent lifestyle with stunning water views, world-class amenities, and 24-hour security. When preparing your Boca Country Club homes for sale, critical staging tips can help impress buyers, giving you a competitive edge in the market.
What is home staging?
Home staging is a technique real estate agents and homeowners use to make a home look more appealing to potential buyers. While it involves decor and furniture placement, it is more than placing expensive elements in a home; it is a strategic design unique to your home and its features. It can include multiple steps like decluttering, rearranging or adding furniture, painting, and decorating with accessories to create a warm and inviting atmosphere.
The goal is to show buyers the home's full potential while allowing them to connect with the space. Staged homes sell faster and for a higher price than non-staged homes, making it a valuable tool in the real estate industry. Here are staging tips to impress buyers:
Place personal items in storage
Preparing the canvas for staging is the first step. Some sellers may want to use existing furniture or decor and add key elements to take the home to the next level. If you wish to create something new or enhance your current design, removing any unwanted belongings for a clean slate is helpful. Placing items in storage eliminates distractions in the home and provides a starting place to implement designs.
Stage with a purpose
To further impress home buyers, it is essential to stage each space with a straightforward use or purpose. For example, turn an awkward corner in your living room into a reading nook with a comfortable chair and bookshelf. If your spare room has a desk, workout equipment, and a guest bed, it can convey that the home is not large enough to meet buyer needs. Eliminate additional items and create one space, either an offer, gym, or bedroom, to show how the space can be utilized. Even if the buyer wants to use the area for a different purpose, they can see the potential instead of wondering if the room is too small for their needs.
Add depth and light with reflective décor
As you move forward with a design plan, consider incorporating mirrors and other reflective decor into rooms and living spaces. These elements can create light and depth in a room, making the area brighter and more open. Mirrors can be strategically placed to reflect attractive views, artwork, or other focal points, keeping buyers engaged in the space and its unique details.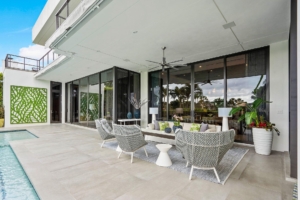 Hanging and potted plants fill space and create color
Plants and flowers can add color, texture, and interest to a space, creating a calming and inviting ambiance for potential buyers. Whether it is a small indoor herb garden in the kitchen or potted plants on the balcony, greenery can incorporate the outdoors keeping buyers focused on the Florida lifestyle. Too many bulky items can make a space feel tight, but adding potted plants can take up unused space while maintaining an airy vibe.
Stage the exterior of your home
The home's exterior is just as important as the interior, if not more so. A home's curb appeal can be a make-or-break factor for potential buyers. A well-maintained and inviting exterior can create a positive impression and impact their mindset while viewing the rest of the home. Simple updates such as fresh paint, mulch and landscaping, and outdoor lighting can greatly impress buyers. Backyards with decks or patios should also be staged with seating and decor to create a liveable outdoor area.
Don't forget the small storage spaces
To truly impress home buyers, it is important to pay attention to storage spaces. While buyers are interested in the home's living spaces, they will also seek ample storage options. Cabinets and closets should not be ignored during the staging process. When a buyer opens a bathroom linen closet to find disarray, it can alter their opinion of the home despite being a small detail. It is critical to include minor spaces for an impressive and cohesive design.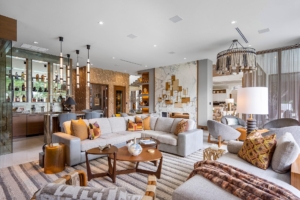 Incorporate high-end details but keep the character
While removing individual personality from a home is vital, you want to keep its character. Personality involves unique patterns or artwork that might not resonate with a wide range of buyers, and character sets your home apart from others in the neighborhood. You can incorporate fun colors and abstract ideas in small ways to add character, but keeping the overall design focused on sleek lines and a modern aesthetic is key.
Work with David W. Roberts of Boca Raton
Work with an expert Boca Raton real estate agent to ensure your home staging approach aligns with your area's current trends and best practices. Real estate professionals can provide insights into what buyers in your market are looking for and suggest which areas of your home may benefit most from staging. Your real estate agent should also have a thriving network where they can recommend reputable stagers and other services to prepare your home for sale. With their expertise, you can feel confident that your home is poised to impress potential buyers.
Royal Palm Properties specializes in luxury Boca Raton real estate and handles exclusive properties. Royal Palm Properties can help stage your home and provide open house tips for sellers to make the process seamless.