Staged Homes Sell 25% Faster: Here's How to Get Started
Channel your inner luxury buyer to ready your property for a fast sale
Boca Raton sits at an exotic location, overlooking the beach and beautiful parks. The housing market in Florida is mature and grows every year. As a result, Boca Raton has become a seller's market due to its strategic position and access to some sought-after entertainment and dining areas.
Boca Raton homes for sale are upmarket and reflect sophistication, class, and exclusivity. When selling your home, the secret lies in how great an impression the property makes on your potential buyers. Staging your luxury home gives you an edge over the competition and can help you sell your house faster and at a desirable amount.
To a prospective buyer, it's more than acquiring a colossal property. In search of a low-key paradise, most luxury home buyers seek to find a home with character, hidden Edens with world-class amenities, proximity to the beach, and the quality of the neighborhood. Let's review a few reminders to consider when planning to stage your home, then get started on how to stage your home.
1. Sell the lifestyle
A luxury homebuyer is not your typical homebuyer. Many are perfectionists — prospects shopping for an expensive home have high standards when seeking a property that will suit their lifestyle. When staging a luxury home, do not make the decor and furniture the focal point. Instead, the items you choose should complement the lifestyle of the inhabitants.
For example, if you sell a waterfront home, use staging techniques to display the remarkable views or the easy access to the ocean. In addition, if your home is made for entertainment, focus on showcasing how the amenities, design, and layout caters to the lifestyle.
When buyers imagine themselves living out their dreams in the home, they will likely create an emotional connection, nudging them to make an offer.
2. Balance function with form
While staging your home to impress potential buyers is essential, you must ensure that the home appears functional and liveable. For instance, if your living area has enough space to accommodate three to four large settees, it doesn't mean you should fill the entire room.
Buyers want to feel how each room flows to the next as they envision how they will work, play, and live in the home. As most luxury properties have multiple rooms with sprawling layouts, it's essential to stage the house to maximize the space while giving buyers an idea of what it will be like to live there. So, when staging the property, balance the wow factor with convenience, sustainability, and comfort.
3. It's not about you
Home staging requires you to get out of your design comfort zone and focus on the buyer. The purpose of home staging is to appeal to a vast buyer audience, allowing them to envision their life in the home.
For home staging, consider using the services of a professional home stager. They will minimize the evidence of your life on the property, making it possible for buyers to picture themselves in the home.
Don't take offense to their suggestions when hiring a professional home stager. Their work is to make your space alluring to most buyers. Their recommendations do not reflect your style choices or preference.
4. Channel your inner buyer
Before rearranging the furniture and staging your home, talk with Royal Palm Properties about the types of buyers you desire to attract. A real estate professional will provide you with a plan about the essential features your house needs to reflect and the general profile of your target buyers.
Opulent buyers are not a homogenous group; they don't look for the same things. For example, one may prefer a master bedroom with ocean views through casement windows. At the same time, another may desire to find a kitchen with a peninsula or island kitchen layout.
Working alone on home staging can overwhelm you. By hiring Royal Palm Properties, you will have the advantage of knowing the general and manageable features you can highlight during showcasing.
7 Tips on how to stage your luxury RPYCC property
1. Consider changing the lighting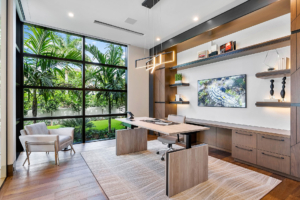 Apart from illuminating the room, your lighting choice can make the space look better or worse. Luxury homebuyers are not impressed with dated lighting or standard builder lighting. Professionally placed lights add another dimension to an area, drawing attention to the focal points in the room.
Each type of lighting produces a different effect. Consider making a statement by using:
Ambient lighting
Mood lighting
Task lighting
Accent lighting
2. Incorporate interesting art pieces
The luxury decor of a wealthy lifestyle lies between the finest galleries, opera, and ballet. Although it's difficult to define what makes art a luxury feature, finding unique pieces from high-end stores or directly from the artists can fit the bill of impressing a luxury homebuyer.
Apart from being decorative pieces, wealthy people consider art as an investment that helps them diversify their portfolios. Art collection for the rich fetches record-breaking returns, so if you can find valuable antiques and pieces, the higher the chance of your home getting sold.
3. Invest in cutting-edge kitchen accessories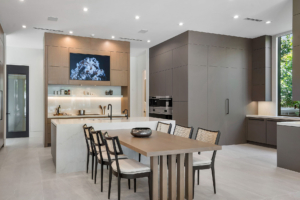 A contemporary kitchen with outdated appliances or accessories can reduce the buyer's interest in your property. Time is precious, especially with the current hectic lifestyle. As a result, your buyers don't want to spend an eternity in a kitchen with time-consuming appliances. Modern appliances are user-friendly, energy-efficient, durable, and furnished with the latest design.
A house whose kitchen has premium technology will sell fast at a more desirable amount than a property with traditional and outdated kitchen appliances.
4. Keep the colors neutral
Aside from comfort and lifestyle, a crucial factor is ensuring that the house has neutral colors. Neutral colors will make the space appealing to a broader group of potential buyers than painting vibrant or striking colors on the wall.
In addition, neutral colors form a natural backdrop that makes the main features of your house stand out. Some colors you should consider incorporating in your stately home are:
Brown (induces a feeling of calmness and comfort)
White (creates an airy, silent, and pure appearance)
Black (to highlight certain features like small tables or picture frames)
Gray (gives a subtle impression without being overly conservative)
You can accent rooms in more adventurous colors that match your background palette. However, when staging children's bedrooms, use gender-neutral colors and furniture, as you cannot know the gender of the buyer's children. Ensure that the room reflects happiness for the buyer to imagine their children's comfort in the space.
5. Don't forget the outdoors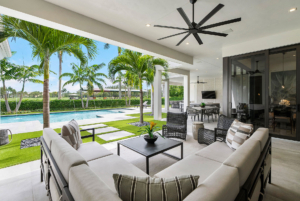 When prospective buyers step out of their car, the outdoor space is the first impression. A well-maintained compound with a beautiful landscape adds glamour and color to a home.
Your backyard outdoor features should provide potential buyers with a luxurious experience, resulting in a string of offers at premium prices. Some features you should consider including are:
An infinity pool
An entertaining area like an outdoor kitchen
A fireplace
A unique landscaping design
6. Accessorize the bathroom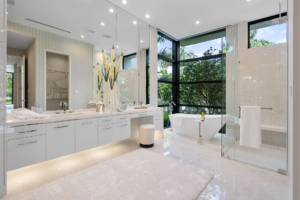 A bathroom with a modern design can help you achieve your daily needs efficiently while providing a relaxing space to unwind after a long day. For example, having a bathroom with unique design touches and ambient lighting creates a spa-like atmosphere that relaxes your mind and body.
It's not unusual to spot a deluxe home with luxurious bathroom features like a wine bar, a sculpture, a wall-mounted fireplace, or a sauna. Depending on the type of client you want to attract, be bold in adding unique features to your bathroom.
An empty bathroom can appear lifeless and cold. You can add life to the bathroom by adding plants like the snake plant, which loves humid conditions and can thrive in low light. In addition, snake plants are excellent air humidifiers.
7. Improve your flooring options
A premium flooring option improves the interior design and combines other home elements like furniture and ceiling decor. While the first interaction a potential buyer will have with your home will be visual, the floor will be the first physical contact.
A good quality floor is a foundation for your home's design, impacting its overall success. If your floor is outdated, consider installing a modern flooring option like:
Natural stone flooring
Luxury vinyl tile
Hardwood flooring
Designer ceramic flooring
Evergreen stone flooring
Royal Palm Properties is an exclusive brokerage to Royal Palm Yacht and Country Club. It has a team of full-time staff with the market knowledge and expertise to help you explore Royal Palm Boca Raton homes for sale. Contact us today if you'd like to sell or buy a property.