Set Sail Into South Florida History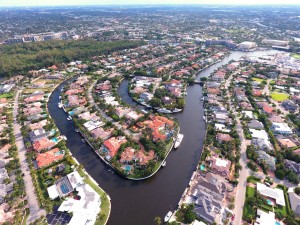 Sparkling blue canals don't make the worst backyards—and today you might see them as the best place to birth a very big boat, which is not far off from their original purpose. Let's set sail into some South Florida history. These deep human-made channels were built so large boats and ships could pass inland, which is why large yachts that would be shut out of lesser ports now call them home. The same canals we enjoy today were wildly important to commerce and the growth of cities. Plus, they played a key role in connecting cultures and building communities.
Canal systems really took off between 1790 to 1855 when channels were first constructed to connect the Great Lakes to Metropolitan areas, like New York City. The systems were so popular that the period is now referred to as the "Canal Age" because of how much industry and culture thrived thanks to new waterways.
The Intracoastal Waterway you see in Boca Raton spans from Boston to Key West then up the Gulf Coast to Texas—and it relies on canals to complete the circuit. Flashback to 100 years ago, and South Florida looked just a little different than it does today. Just a bit. Think fewer mansions—probably a lot more alligators. Residents relied on these waterways for transportation, and to develop beyond the very edges of the waterfront. In order to accommodate large ships, canals had to be at least 12' feet deep and about 150' wide, which is why they're still perfect spots for yachts. Without canals, South Florida wouldn't have even been accessible to pioneers in the late 1800s nor would it be a suitable place to park that Blohm+Voss today.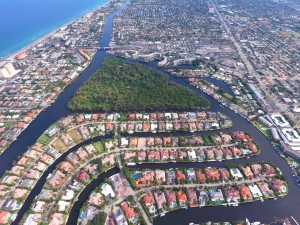 Canals weren't just for travel and trade, and alligators weren't the only threat people had to worry about. Legend has it that Black Beard once found safe haven in Lake Boca Raton, and though the canals weren't there yet, the naturally deep inlet and lake hinted at what was to come. Loose lips do sink ships though, and as it turns out, so did German submarines. During World War II, the Intracoastal Waterway was essential to avoiding enemy submarines that sunk merchant ships traveling along the East Coast.
Today, deep inland canals unite the community and offer a place to relax and unwind, making the area a premiere yachting hub. The canals that weave through the area are part of what gives South Florida its flair. A lot has changed since the creation of these canals—South Florida is no longer as wild, we typically travel in planes or cars, and we usually share photos of our time on the water on Instagram, a luxury early pioneers never got to experience. Despite these changes, we can still take off on a boat of nearly any size through canals that create the perfect romantic, serene backdrop for all of our adventures.